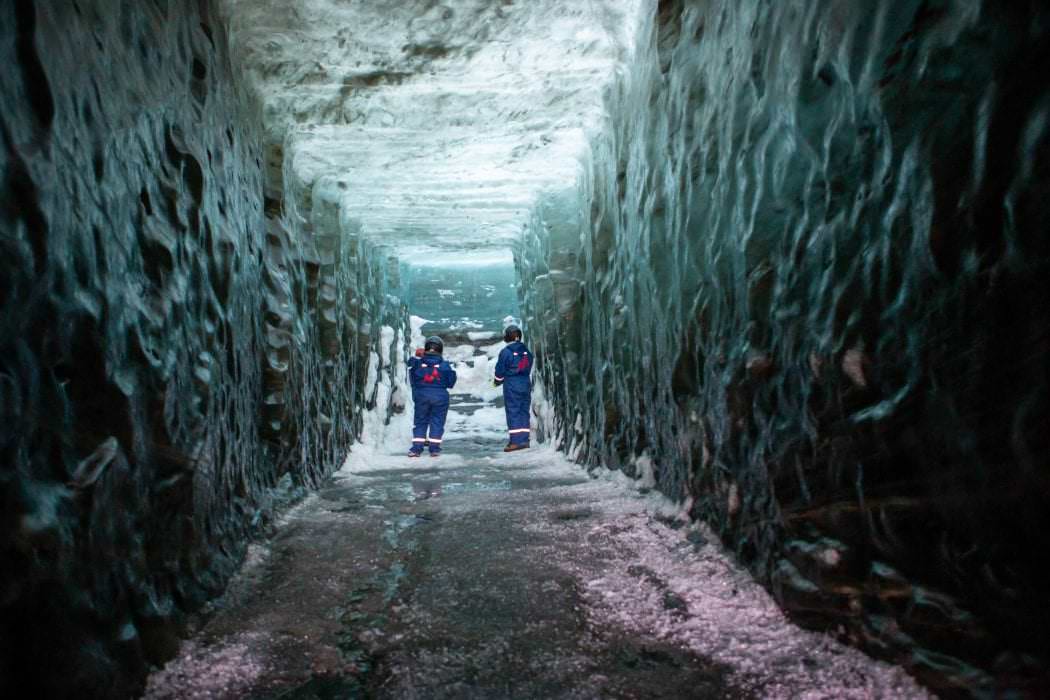 Snowmobile and Ice Cave Tour in Iceland
Snowmobile and Ice Cave Tour in Iceland
Availability

All year
Type

Half-Day Tour
Duration

4 hours
Time

14:00
Price from

34.000 ISK
Difficulty

Easy
A Glacier Ice Cave and Snowmobile Tour in the outskirts of Langjökull, the second-largest glacier in Iceland. Come with us on an adventurous Snowmobile and Ice Cave Tour and take a look inside the Glacier.
Description
Snowmobile and Ice Cave Tour – Iceland
Your next adventure in Iceland begins going from the upper parking lot at Gullfoss in one of our monster trucks. After roughly an hours drive we head out to the Snowmobiles
Although we know what the Glacier looks like, it's such an amazing experience to go inside this amazing structure. The ice inside the Glacier Ice Cave, where we are heading on this tour is over 400 years old and you can see layers of ash from many different eruptions throughout history.
The trip to the Glacier Ice Cave is also an exhilarating snowmobile and ice cave tour. When we arrive we will explore every corner and detail of it and our Guides will also inform you about everything you want to know about the Glacier and its history.
We then head back to Mountaineers Glacier Hut and hop on the monster truck to ride back through the snowy terrain on our way to Gullfoss.
Itinerary
After a great Golden Circle trip of your own, park your car at Gullfoss Café and you will be stunned by the Monster Trucks and Super Jeeps from Mountaineers of Iceland that await your arrival. Our driver will greet you at our meeting point sign and from there we start the journey to the glacial highlands of Iceland, driving from Gullfoss to Langjökull glacier.
The epic scenery on the way and the impassable road that our massive machinery eats through is an adventure on its own. Once we get to the glacier we will step out of the monster truck and into our glacier hut for snowsuits and other accessories that keep you warm during the snowmobile ride.
After suiting up we head to our parked snowmobile rows and the guide will go through the details of how to operate the snowmobile. No worries, it´s quite easy. After the short introduction, you select your snowmobile and once the guide signals you to go, the ride begins.
Riding the glacier and with good visibility, you will be emerged in the epic surroundings and lava formed rock mountains. Total whiteout is always a possibility but that is no less fun and what we truly call the moods of Mountaineers.
The ride will take you to our newly structured Glacier Ice Cave that Mountaineers have built so that you take a look inside the glacier.
After a thorough look inside the Glacier, we then head back to our Basecamp in our snowmobiles and then start making our way back down to Gullfoss.
Meeting point
The meeting point is at Gullfoss upper parking lot,  outside the area where the shops and restaurant is located.
It takes about 2 hours to drive from Reykjavík to Gullfoss.

Other experiences you might like