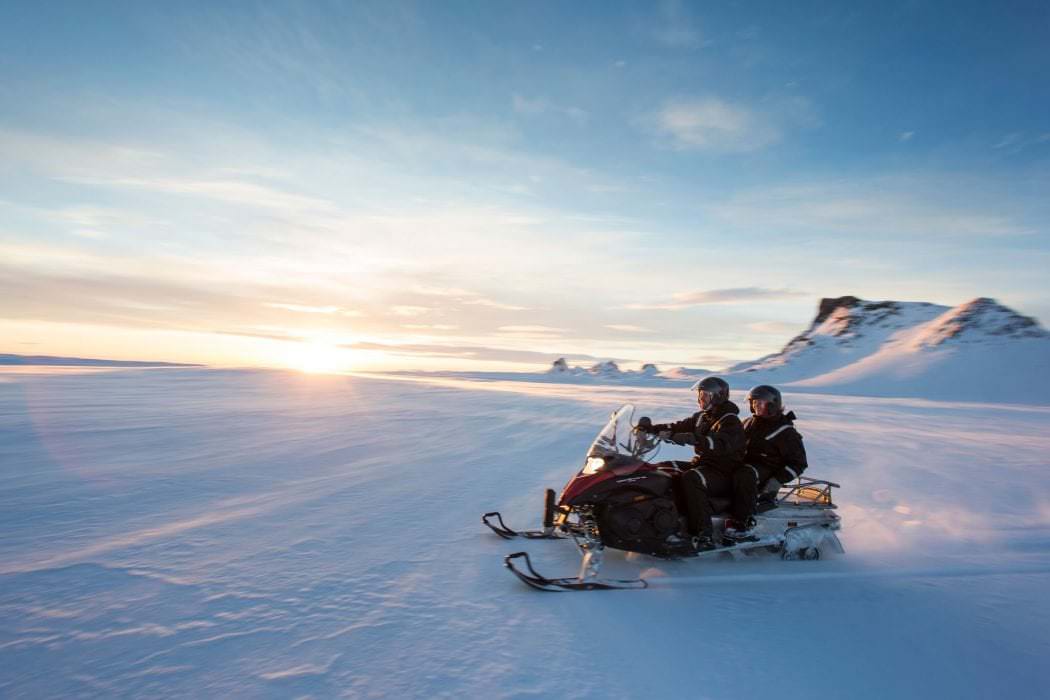 Golden Circle Snowmobiling
Golden Circle Snowmobiling
Availability

All year
Type

Day Tour
Duration

10 hours
Time

8:30-9:00
Price from

31.999 ISK
Difficulty

Easy
With pick-up in Reykjavik
Description
This Gullfoss, Geysir & Langjökull Snowmobiling tour combines the widely popular Golden Circle tour with the adventure of a lifetime – a one-hour snowmobile ride on Langjökull glacier, Iceland´s second largest glacier. We begin with a Reykjavik pick up at you desired location and from there we head out of Reykjavik and into the countrysides of Iceland.
This tour is operated in cooperation with Reykjavik Excursions.
Bus fare Guided tour
Professional local guidance
Free Wi-Fi
Admission to the sights
Protective clothing and safety equipment for the snowmobile ride
1 hour guided snowmobile tour (2 persons per vehicle)
A valid driver´s license is required
Timings may be delayed or canceled due to weather and road conditions.
2 persons share the same snowmobile, single person per vehicle at extra cost
Age limit is 6 years
Only one child is permitted per adult on this tour
Dress according to the weather. In Iceland it is always smart to dress in warm, waterproof clothes, weather changes can sudden so expect the unexpected.
Tip: Upgrade your tour to "Single Rider" on the snowmobile for more private driving on the glacier.
The ride on the monster truck is an adventure of its own, so enjoy the moods of Mountaineers!
Bring a waterproof jacket and pants, headwear and gloves. Good outdoor shoes are recommended.
Itinerary
ÞINGVELLIR
First, we stop at Þingvellir National Park which is known for its exceptional beauty and historical importance. Þingvellir is as well a designated UNESCO World Heritage Site.
Þingvellir (Thingvellir) is a historic site and national park in Iceland, east of Reykjavík. It's known for the Alþing (Althing), the site of Iceland's parliament from the 10th to 18th centuries. On the site are the Þingvellir Church and the ruins of old stone shelters. The park sits in a rift valley caused by the separation of 2 tectonic plates, with rocky cliffs and fissures like the huge Almannagjá fault.
A fun fact for the Game of Thrones fans out there, Iceland is best known as the land beyond The Wall, but the pass to the impregnable Eyrie is actually found in Thingvellir National Park.
Those who would approach the Eyrie must pass through a narrow path in a single file, making them very vulnerable to archers. Experience the path as you walk about the incredible rock formations of Thingvellir.
THE GREAT GEYSIR
Our second stop is at the high-temperature geothermal area known as Geysir, with its numerous spouting hot springs.
Geysir, sometimes known as The Great Geysir, is a geyser in southwestern Iceland. It was the first geyser described in a printed source and the first known to modern Europeans.
The English word geyser derives from Geysir. The Geysir geothermal area boasts spouting springs, including Strokkur, the most active geyser in Iceland.
LANGJÖKULL SNOWCAP
From there we drive to Langjökull where we take a one-hour exhilarating snowmobile tour on the vast white snowcap.
Langjökull is the second largest ice cap in Iceland, after Vatnajökull. It is situated in the west of the Icelandic interior or Highlands of Iceland and can be seen clearly from Haukadalur.
Mountaineers of Iceland is one of the oldest activity providers and the most experienced snowmobile operator in Iceland. Operating super jeep, monster truck and glacier snowmobile tours on Langjokull glacier.
GULLFOSS WATERFALL
On our way back to Reykjavík we stop by the stunning Gullfoss waterfall. At Gullfoss you are given the opportunity to stand next to the amazing waterfall, watching enormous quantities of water tumble violently into a deep, meandering gorge. Gullfoss (Golden Waterfall) is an iconic waterfall of Iceland offering a spectacular view of the forces and beauty of untouched nature. Located in South Iceland on the Hvítá (White) river which is fed by Iceland´s second biggest glacier, the Langjökull. The water plummets down 32 meters in two stages into a rugged canyon which walls reach up to 70 meters in height. On a sunny day, a shimmering rainbow can be seen over the falls.
REYKJAVIK
After an incredible day of activities, we head back to Reykjavik so you can start uploading your memories to social media and will probably have one of the best night sleep of your life.
Meeting point
Pick up is up to 30 minutes before departure
Pick up is operated by Reykjavik Excursions bus operator
Map Route

Other experiences you might like