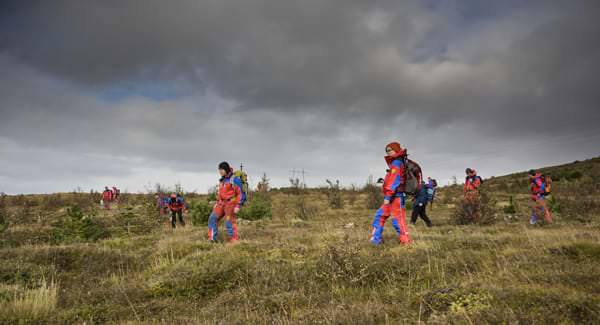 Mountaineers of Iceland support ICE-SAR
The Rescue Teams
Icelanders coexist with many types of danger and not a few have lost their lives as a result of volcanic eruptions, avalanches, earthquakes, and other natural disasters.
The ICE-SAR rescue teams have gathered knowledge and experience that allows them to react quickly to all the dangers that beset and threaten inhabited areas and travelers on land.
A commanding selection of equipment, targeted training and educational work, alongside the efficient organization of the National SAR Command and Area SAR Commands, ensures a rapid and professional response to danger at any given location.
The ICE-SAR rescue teams number about 100, within, there are thousands of people who are always available when needed. The professionalism that characterizes the work of Icelandic rescue teams has brought worldwide attention.
The specialist training undertaken by particular rescue groups has resulted in exceptional knowledge of the various conditions that are known to occur, both at sea and on land. ICE-SAR seeks dedicated knowledge far and wide, within Iceland and overseas.
Mountaineers of Iceland support ICE-SAR
The Emergency Call or "Neydarkall" is an annual fundraising for all units of ICE-SAR that give out a keychain figure to supporters. This year´s figure is a member of the snowmobile search and rescue team. Mountaineers of Iceland are the biggest snowmobile tour operator in Iceland and of course, we support the ICE-SAR and donated.
With the donation, we received this statue of the snowmobile team member!
Donations
Donating is a great way to show your support for the Icelandic Association for Search and Rescue (ICE-SAR).
ICE-SAR is a nonprofit, noncommercial, volunteer-based organization that specializes in search and rescue services on land and at sea around the coast of Iceland.
To make a donation by credit card please use this link for a safe online transaction.
SafeTravel
If you are traveling in Iceland or planning to then we encourage you to bookmark www.safetravel.is and use it to maximize your safety on your journey on this beautiful island.