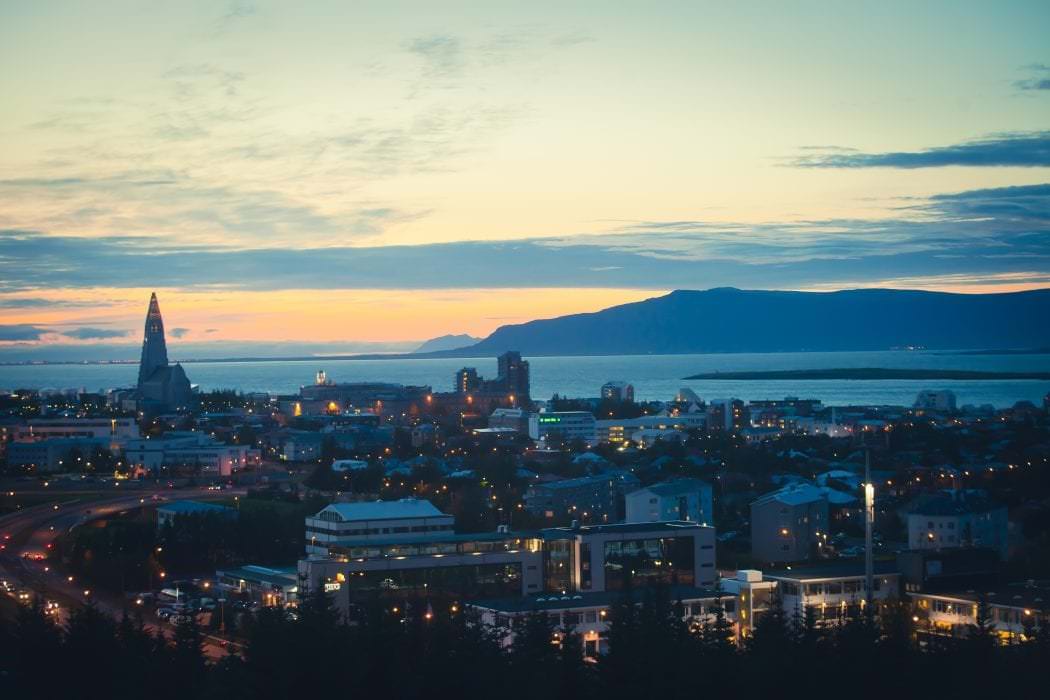 Icelandic summer nights
Welcome Summer!
Believe it or not, the summer has started here in Iceland. The First day of summer (Sumardagurinn fyrsti) here in Iceland was on Thursday the 20th of April. This day is a public holiday in Iceland where people often greet each other with "Gleðilegt sumar" which means "Happy Summer".
The Icelandic nature is unique, especially during the summer time where nature displays a complete range of colors. As the days get longer and brighter, The peak of summer shows that the sun doesn't really set as the midnight sun shines.
What can you do in Iceland on a beautiful summer night?
We have listed down some fun things to do. Take a look!
Go for a Hike
In Iceland we have a lot of mountains. Many Icelanders love hiking and during the summertime you can often see big groups of people going for a hike. You can both go for some serious hiking as well as some less strenuous. Since we are talking about summer nights some less strenuous hiking would be a better idea. We definitely recommend that you go for Esja – the mountain is 10km north from Reykjavík and it is one of the characteristics of the capital.  However, you should always remember before you go hiking in Iceland to look up the weather conditions before you set of.
Enjoy the midnight sun
There is something extraordinary about the Icelandic summer nights. As we said, in the beginning, the sun doesn't really set at any point during high summer. There's something strangely exotic about visiting a place so close to one of the poles where the sun refuses to set for a chunk of the year. Therefore we get this immensely beautiful midnight sun – The skies radiate with shades of pink and gold through the night. The sun only sets for a few magical moments, casting an illuminating glow during dusk.
There are simply no words to explain this – you simply just have to experience it yourself. We highly recommend that you find a nice and quiet place (shouldn't be hard to find here in Iceland) and enjoy the midnight sun and its beautiful colours.
For the adventurous one's we recommend that you take a look at this tour.
Go to natural hot spring
One of the main things that attract people to Iceland is its unique nature. Iceland is located on a hot spot resulting in a lot of geothermal activity. In Iceland, we have a lot of hot springs and some of them are perfect for bathing.  A lot of those nature pools are free.
What better way to spend a summer night in Iceland than to bath in a natural hot spring.
Here are some natural pools to check out:
Landmannalaugar, Reykjadalur, and Seljarvallarlaug
Walk to Grótta
Grótta is located in Seltjarnanes, the western end of Reykjavík City. Many locals go for a walk there to enjoy the scenery. Grótta is a nice and quiet place to go for a walk, enjoy nature and the sunset there, is phenomenal.
Close by there is a place for foot bathing carved into the rock. Here you can relax and even enjoy a beverage of your choice.
This is definitely one of the most romantic things that you can do on a nice summer night here in Iceland.
Local swimming pools and hot tubs
Since the advent of harnessing geothermal energy in Iceland, the tradition of public bathing has become deeply rooted in the local culture. Locals of all ages and professions frequent some of the hundred public pools for both health and social purposes; in order to unwind after a long day or to catch up on gossip with friends. The swimming pool culture has clearly established itself, for the greater capital area alone has seventeen public swimming pools, most of which are outdoors and some of which are equipped with saunas and steam baths
Experience Iceland's pure thermal energy and take a dip in one of Reykjavík's many thermal pools and spas! Not only a great source of natural therapy but an important part of our culture and a tonic for the body and mind!
Experience the Icelandic nightlife
Reykjavík has become known for its nightlife – But why?
Here in Iceland, we don't have any clubs, it is more like café's that turn into bars where people make room for dancing. So don't expect to find any big clubs on 4 floors because you won't find it. No worries though, you will definitely have a blast. Icelanders love to party and to have few or more drinks. The local people don't show up on the bars until around 1 in the morning. Therefore the bars don't get busy until around 2 or so and they close around 5 in the morning. None of the bars charge entry fees so if you want to try out many different bars it shouldn't be any problem and they are all very close to each other. During the summer time the sun refuses to set so you will never feel like it is night time. You will see a lot of people partying outside on the streets during the summer time. Definitely, something you will have to experience.
Barbecue
During the summertime Icelanders love to have a barbecue with their friends and families. It is very common to meet up for a barbecue and everyone has a beverage of their own choice. On a nice summer night, you should definitely try to have a barbecue with some locals. Another idea would be to buy a disposable grill and go to a nice and quiet place and have a barbecue. Eat good food, have a beer and enjoy the Icelandic nature.
Outdoor festivals
In Iceland, we have a lot of festivals during the summer time. There are some festivals in Reykjavík but they are also all over the country. Each and every week you can find some kind of a festival to join here in Iceland, if not in Reykjavík then in some villages. We definitely recommend that you experience a festival here in Iceland.
Secret solstice festival is Iceland's premier music festival which is held in Reykjavík. The festival takes place on 15-18th of June. Which happens to be during the surreal summer solstice so the sun never sets. This festival gets bigger each year and is now one of the Reykjavík's largest festivals.