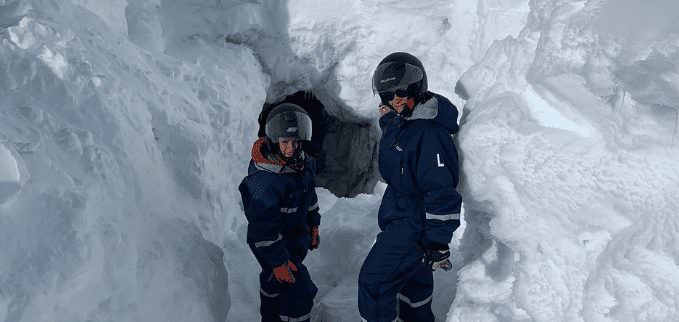 A travel story from Carolina
We get a lot of reviews on TripAdvisor with compliments, shout-outs and also pointers to improve and it´s always a blast reading through those. Therefore, when we stumble upon these amazing stories with detailed descriptions and the whole itinerary laid out, they give us goosebumps. These stories give us the reassurance that we are doing things right. This is a TripAdvisor from Carolina who traveled with us in our Hot & Cool tour, which is a snowmobile ride and a visit to the Secret Lagoon.
This was an incredible tour! There are so many options when it comes to tours operators in Iceland but you guys really stand out. Unfortunately, we had booked the other tours (Northern lights, South Coast, Golden Circle) with other companies so we only did one tour with you…but this is the one my eight years old keeps talking about in school and to our family and friends.
The tour included snowmobile on Iceland's 2nd largest glacier, ice cave and to top it off: entrance to the secret lagoon hot springs.

Eggert picked us up promptly in a cool white Jeep to start our adventure driving up to the glacier. The hype didn't last long before all 3 of us (my husband, my son and I) were sleeping since we had arrived the day before and had squeeze in the late night Northern Lights tour with another company (yes, we got lucky on our first attempt).

He was very accommodating. He was ready for some chit chat but quickly realized we only wanted to sleep for the first hour of the trip. Rested and more alert, we started asking questions about the landscape. We had a quick stop at the Gullfoss Cafe before heading to the glacier. It was interesting to see him putting the snow chains and the lowering tire pressure. From here on, the ICY road was pretty much for us only; not a single vehicle (actually truck since no regular vehicle would be able to make it on this terrain) was spotted.

Enough about Eggert and more about the tour…driving a snowmobile is one of the coolest experiences my son has had while traveling (and we had done enough of that – with 19 countries and counting). We were also the only ones at the snowmobile base camp. We were expecting more people perhaps from other tours but the reality was that it felt as if the entire glacier was only for us! As a mom, I felt a bit scary at first but later on, I got used to the VIP treatment. We rode the snowmobile with someone else. I wish this part of the tour was longer – it's an hour all together including the visit to the ice cave but it goes by very quick. We spent 15 min. in the cave and headed back in our snowmobiles to the base camp where Eggert was waiting for us. Note: I highly recommend this entire tour. However, don't do it if the ice cave is the highlight. We were told by Eggert that there are much bigger and better ice caves in other areas.
After the glacier, we drove to the Secret Lagoon. The hot springs were an amazing way to finish the day. The tour includes the entrance and Eggert waited patiently for us outside in the car. Once we were back on the road to Reykjavík, the sleeping trio was at it again.
When we first booked this tour we didn't think much of the hot springs since we were planning to go to the Blue Lagoon on our last day. However, the combination of ice and fire that defines Iceland also defined our tour!
Yes, it was a very memorable trip and my son is promoting your business. His teacher told me she's planning a trip to Iceland with her friends and a mom of one of my son's classmate wants all the details of the trip. I'll definitely recommend your company.