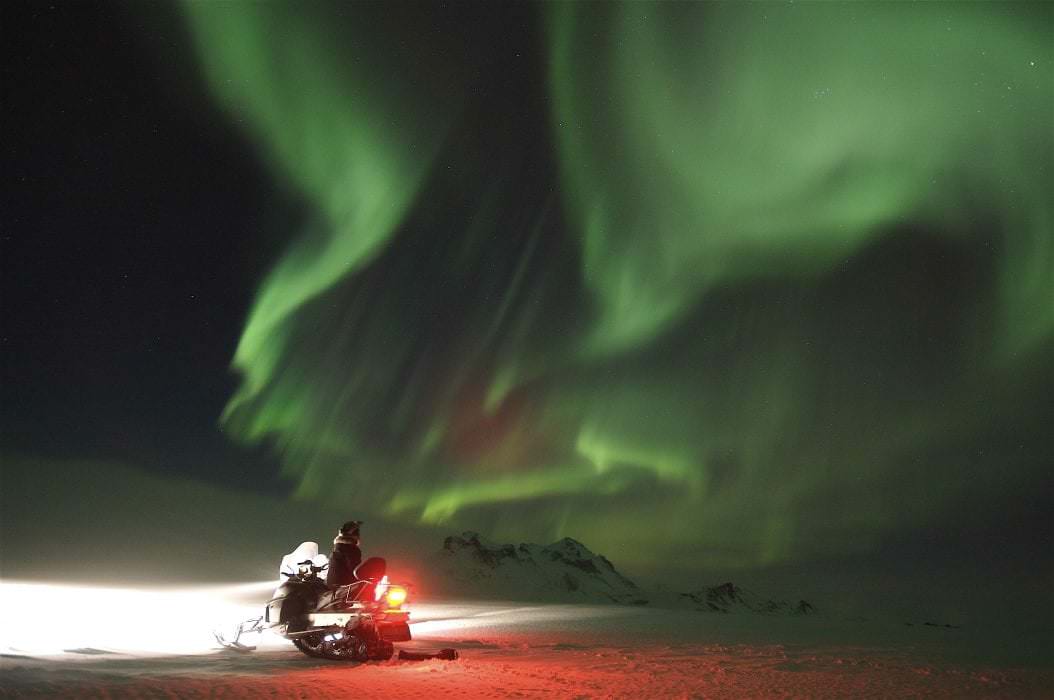 Northern Lights Snowmobile
Northern Lights Snowmobile
Availability

October - March
Type

Half-Day Tour
Duration

4 hours
Time

18:00
Price from

31.400 ISK
With a Super Truck transfer from Gullfoss
Description
Get closer to the origin!
Experience the elusive Northern Lights Snowmobile Tour, high up on Langökull Glacier, far away from the city lights.
Pick-up and drop off at Gullfoss Café
Monster truck transfer to the glacier hut
One-hour snowmobile tour
Warm overalls and appropriate equipment.
Itinerary
Long dark winter nights are never as dreary as they may seem.
Iceland is compensated with the natural phenomenon of the Northern Lights, which can often be seen dancing in the Icelandic sky.
We welcome you into our monster truck at Gullfoss Café and start the tour by driving into the barren landscape heading for the Langjökull glacier area.
You will be entering our glacier hut, where we will gear up for the highlight of the tour: snowmobiling in the darkness.
Guided by the snowmobiles' headlights, a whole new world opens up before us as we gaze upon the frozen landscape.
With good fortune, we will see the Aurora Borealis – Northern Lights performing its ancient dance. The quiet, serene environment makes you feel as if you're by yourself in the world in a place where the stars seem so close you'll want to reach out and touch them.
After the snowmobile tour, we head back to Gullfoss after a truly one of a kind experience.
Meeting point
Map Route

Other experiences you might like